Last Updated: May 10, 2020
The Fisher-Price Collectors Club usually holds a sale once a year during our annual convention, which takes place during the last full weekend in July. (To see when the next sale is, visit our Toy Show and Sale Page). Our current location for the sale is the Blazing Star Masonic Lodge, located at 645 Main Street in East Aurora NY. The sale takes place as part of the East Aurora Chamber of Commerce's Street and Sidewalk Sale.

General Information: The sale usually has between 5 and 10 vendors selling classic Fisher-Price and similarly related toys. Classic Little People (Pre 1990) are the most sought after, along with vintage Fisher-Price wooden pull toys. Other toys that vendors sell are Adventure People, Huskys, newer Little People, Toyfest toys plus much more. Club members get first shot at table space, then we open selling to anyone with Fisher-Price toys to sell. In 2019, it was $45 to rent a table, and $25 to rent a second one, space permitting. Club VP Becky is chairperson of the sale. Sadly, we have lost some longtime sellers recently due to health reasons, but hopefuly we can find enough new sellers to take their place to keep the sale going!

As the next sale gets closer, this page will be updated. Stay tuned!

Home Page / News and Updates / Gabby Goose Newsletter / Annual Toy Sale / Convention 2019 / Adventure People Figures ID Guide / Adventure People Overview / The Adventure People Illustrated Carded Figures / Wooden Pull Trains / East Aurora Information / Overview of Lines of Fisher-Price Toys / History and Goals of the club / Membership Information (Joining the club) / Some member's Collection Photos / Overview of Little People Toys / Fisher-Price toy guide books / More Links / Member Memorials /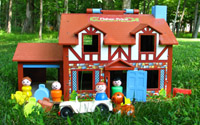 Back to the Fisher-Price Collectors Club Home Page
www.fpclub.org
Fisher-Price Collectors Club