Last Updated: July 5, 2021
Hello Collectors! One this page, you will find some links to web sites with information about Fisher-Price toys. This page used to be bigger, but has shrunk considerably. With social media taking over (Facebook groups, Instagram accounts), many Fisher-Price related websites have have gone defunct and/or are no longer updated. Definitely social media (like Facebook) has taken over as the place to make contact with other collectors. But oh well, we have a few surviving links listed here!

Online Auction Sites
Ebay.com - Looking to buy some toys? Or sell? There is no site bigger than Ebay, it is still #1. Even with all the fees and such, Ebay still has the most traffic and activity among toy collectors. Ebay has a category for Fisher-Price toys, located in "Toys & Hobbies", then in the "Pretend Play/Preschool" Category. Some also can be found under Toys & Hobbies in the "Vintage and Antique Toys" category. Have fun!
Facebook Groups
Facebook.com The club has a page here at here. This site is mainly used for informational purposes - when the club's next sale is, when the convention is, when newsletters are mailed, stuff like that. For chatting with others about Fisher-Price toys, check out the Facebook Groups page here! These groups are open to everyone, not just club members.
Company and Museum Sites
Fisher-Price.com - Here is the site for the Fisher-Price toy company. Of course, the site shows only the current toys being produced. Sadly it doesn't show anything vintage!
Toy Town Museum - Toytown was a museum located at the Fisher-Price campus in East Aurora NY. The museum celebrated toys with rooms of displays of Fisher-Price toys going back to the 1930's, plus other vintage toys as well. Sadly mainly due to finanical reasons, the museum closed in 2009. The museum talked of opening again in another location, but it will never happen. Toytown Museum is well-known for making many replica Fisher-Price toys for the Toyfest festival. The original Toytown Museum website is gone now; the link above links to an archived version of their website (and no telling how reliable that link will be!). Fisher-Price collectors will always miss that museum.
Toy Guides and Pages
ThisOldToy.com - WOW! This is a great site, and a very large one too! This site has been around for years, and is well-known among collectors. If you need to find info about a set, or a certain Fisher-Price figure, check here! They have toys listed by set number and year. Someone put an incredible amount of work into this website, which helps preserve Fisher-Price information for years to come. This site is not just Fisher-Price Little People, it's has just about ALL older Fisher-Price toys!
Plaid Stallions Blog - Talk about retro! This site focuses on things primarily from the groovy 1970's, with a touch of 80's too! Some Fisher-Price toy store displays can be found here and here! Fun site to explore!
Retro Rescue - This site has many photos of Fisher-Price Adventure People sets and figures. Totally retro!

Home Page / News and Updates / Gabby Goose Newsletter / Annual Toy Sale / Convention 2019 / Adventure People Figures ID Guide / Adventure People Overview / The Adventure People Illustrated Carded Figures Wooden Pull Trains / East Aurora Information / Overview of Lines of Fisher-Price Toys / History and Goals of the club / Membership Information (Joining the club) / Some member's Collection Photos / Overview of Little People Toys / Fisher-Price toy guide books / More Links / Member Memorials / Paypal For Club Members /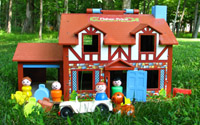 Back to the Fisher-Price Collectors Club Home Page
www.fpclub.org