WELCOME TO OUR OFFICIAL SITE!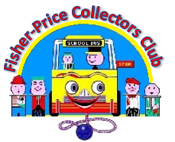 The Fisher-Price Collectors Club is a group of people who enjoy collecting the wonderful toys made by the Fisher-Price toy company. We have been together for well over 25 years, first forming in 1993. The club is a registered non-profit organization 501(c)(3)with the purpose to preserve and collect Fisher-Price toys, and to bring together the people who enjoy them. Our club is unique in that we don't just exist as an online entity - we have a yearly convention where we get together to meet in person and socialize; and also have a sale to buy, sell and trade our favorite toys! If you have ever seen Brad Cassity's book Fisher-Price Toys, yes that's our club mentioned in there, and many photos in that book were from our club member's private collections. Check out our website and see what we do!

MARCH 7, 2022 UPDATE: Mark those calendars!! The club's next convention is set for July 29 - 30, 2022! All events will take place in the East Aurora NY area. The club's annual dinner will be on Friday July 29th at Bravo Cafe in nearby Elma NY. The Toy Show and Sale will take place on Saturday July 30th at the Blazing Star Masonic Lodge, located at 645 Main Street in East Aurora NY. There may be more events planned for club members as well. We will update this website with more details as July gets closer!

JANUARY 1, 2022 UPDATE: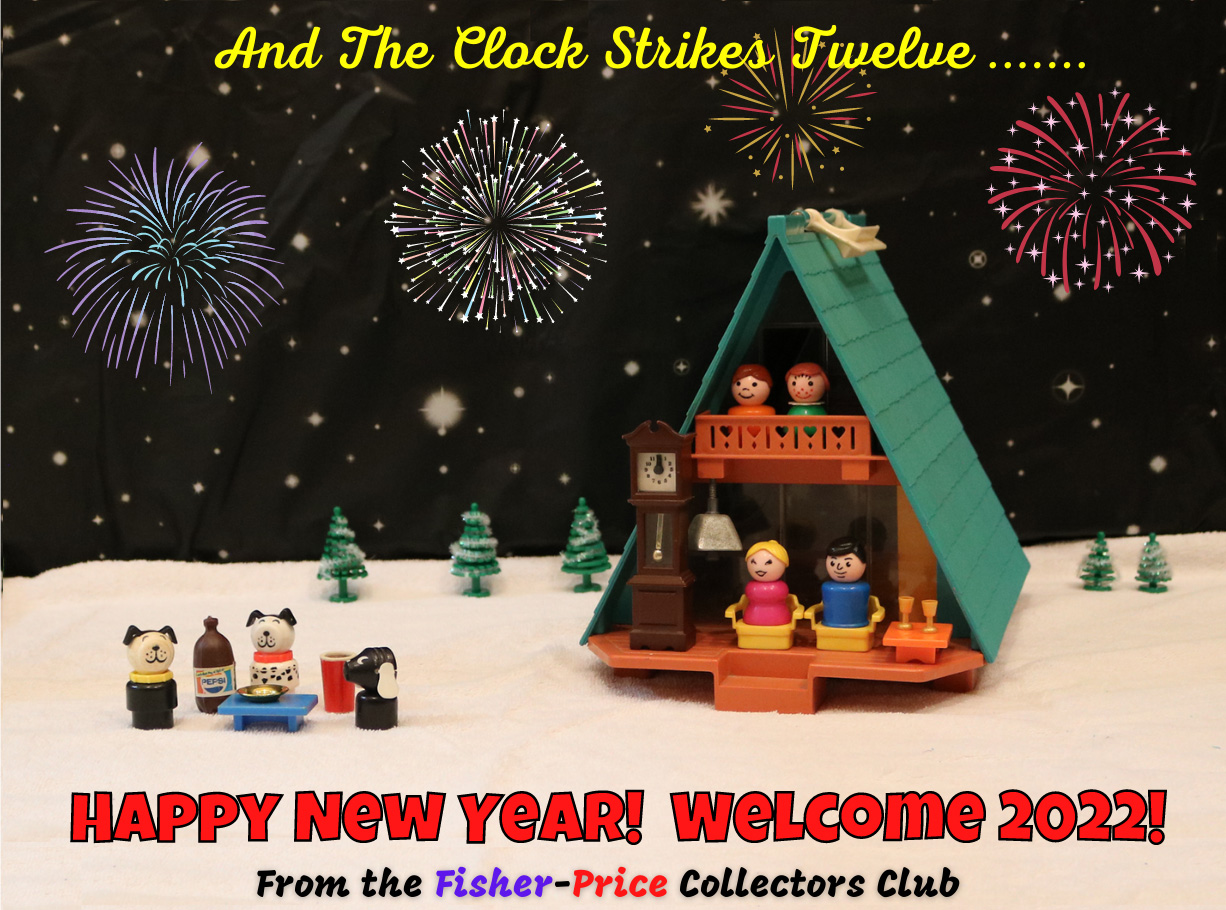 Happy New Year 2022!! The Little People family enjoyed celebrating the holiday from the A-Frame! Watching fireworks, enjoying good drinks and being with our family and dogs, what a great way to ring in the new year!

JANUARY 1, 2022 UPDATE: Welcome 2022! For the first time, the Gabby Goose newsletter was emailed to our club members. Going digital helps the club save quite a bit of money, and makes things easier for our editor. Articles include "Modern Toys: A Look Behind the Book"; and "Fisher-Price and Disney". We are also now selling official tote bags for the club! If you would like one, follow the instructions on page 7 of the newsletter! Our board and officers are planning Convention 2022 for this upcoming July! Details are still being worked out, and we will update this website and our Facebook page when plans are finalized!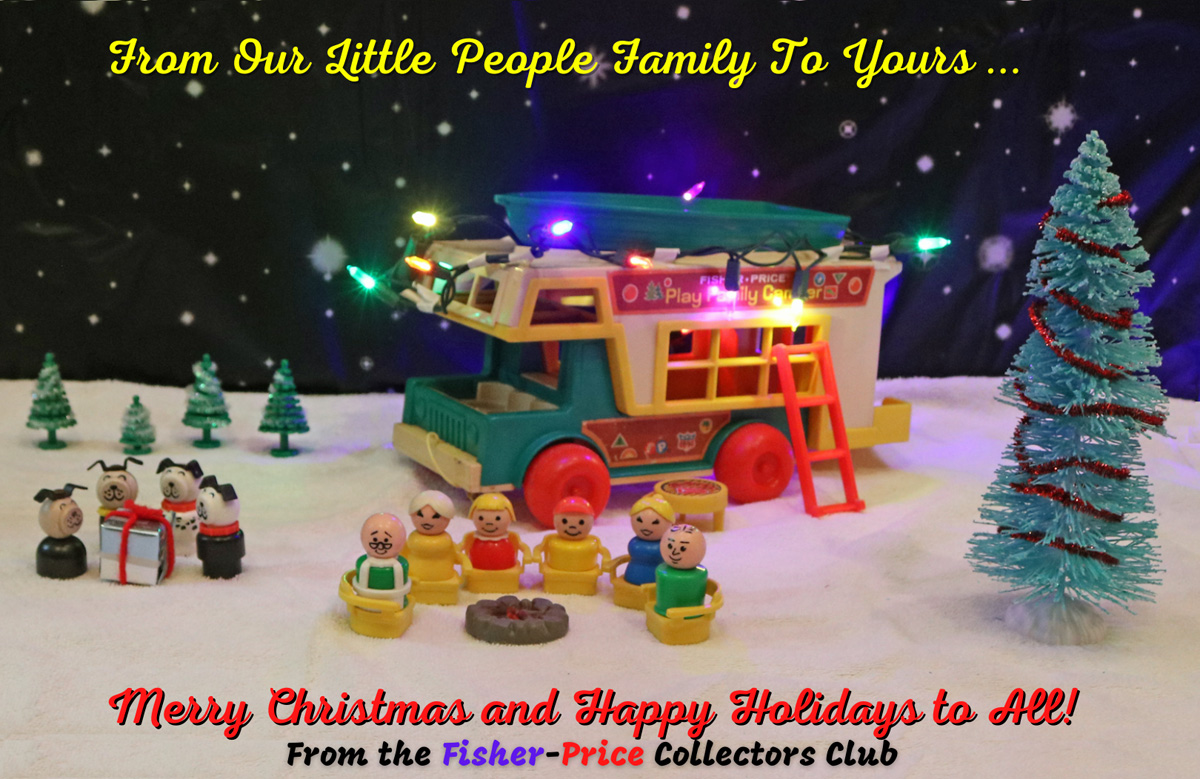 DECEMBER 25, 2021 UPDATE: Merry Christmas and happy holidays from the Fisher-Price Collectors Club! As always, we love to share photos of our Little People celebrating the holiday!

DECEMBER 5, 2021 UPDATE: We added some updates to the Convention 2021 Page to show what fun the club had this past summer! The next Gabby Goose newsletter is still being edited at this time.

NOVEMBER 14, 2021 UPDATE: The next Gabby Goose newsletter is still being edited, and will be sent out when completed. In the meantime, relax and visit our Facebook Groups to chat about everything Fisher-Price!

JULY 31, 2021 UPDATE: Convention 2021 was a great success!! Even with less than 2 months to put the whole event together, we had a fantastic time!! The dinner was so much fun, the sale was awesome as ever, and visiting the Fisher-Price factory campus and store is always a hit! Many thanks to our officers and board for pulling this off so quickly! And yes, we are already planning convention 2022! The next Gabby Goose newsletter will have a round-up of Convention 2021.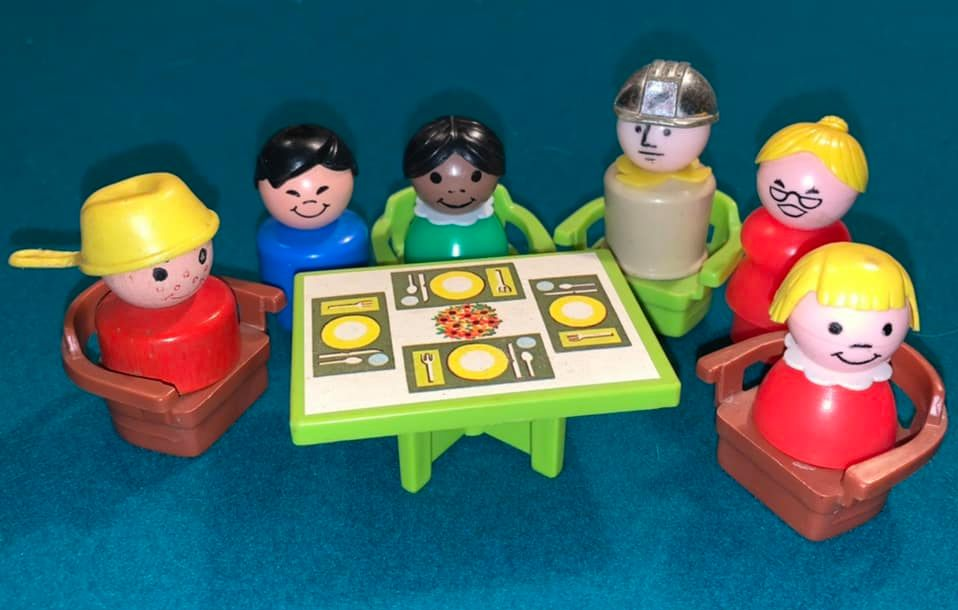 JULY 19, 2021 UPDATE: Club members, there is still time to make reservations for the dinner! We have 2 guest speakers this year, plus games with prizes to win! The food at Bravo Cafe is fantastic (and an open bar too!). The dinner is always a blast, just chatting away the evening talking about toys and everything else under the sun! Make your reservations at our Paypal Page!. The dinner is on this Friday July 23rd at 6:30 pm at Bravo Cafe in Elma NY. The address is 5781 Seneca Street. We always suggest getting there at bit after 6:00 so we have time to settle in and get ready!

JULY 17, 2021 UPDATE: Less than a week until Convention 2021! The Toy Sale Page was fully updated with all the details for 2021! We just signed up a few more vendors, so it looks like this sale will be hopping!! We now have the most vendors in years scheduled to sell! If you are in the area, come to the sale! You never know what awesome toy may await you! Club members, if you plan to attend the dinner, make your reservations quickly at our Paypal Page so we can get the final count to Bravo Cafe!

JULY 11, 2021 UPDATE: Collectors, check your mailboxes! The latest Gabby Goose newsletter was mailed out in early July! If you want to attend the annual dinner, reservations are required. It is $22 a person this year. To make your reservations, you can fill out the form in the Gabby Goose and follow the instructions on it; or you can pay on our updated Paypal Page. You can also renew memberships on the Paypal page as well. The club needs to know by July 16th how many are attending the dinner, so get those reservations in as soon as possible!

JUNE 25, 2021 UPDATE: We are getting ready for the July 2021 convention! For those wanting to renew membership or make reservations for the July 23rd dinner via Paypal, visit our Paypal Page here. Anyone interesting in selling at the sale, visit our Vendor Information Page here!

APRIL 25, 2021 UPDATE: WE ARE HAVING OUR SALE AND DINNER!!! See posts above for more info! This update originally was a sad depressing post about how New York is not lifting Covid restrictions, and will keep everything closed and us all masked in perpetuity. As of late April, few restrictions had been lifted so we were going to cancel our sale and dinner yet again. BUT FINALLY in May enough restrictions were lifted so the club's dinner, sale and even the Chamber of Commerce's Street and Sidewalk Sale IS ON! The sale will be on Saturday July 24th at the Blazing Star Masonic Lodge in East Aurora NY from 9:00 am to 2:00 pm. YES!!!!!

JANUARY 23, 2021 UPDATE: Hello club members and all Fisher-Price fans! Many of you have asked about membership for the 2020-2021 year. Due to the current covid situation, we extended all current memberships for another year while we wait until the world gets in a better place, and we can get together again. The good news is the most recent Gabby Goose newsletter was mailed out in December 2020, so all 2020 club members should have received it! Many thanks to Kara for being our editor for this edition! No idea yet on whether the club will get together in the summer of 2021. While we wait for the world to heal, please join us in the Fisher-Price Facebook Groups so we can keep on collecting, chatting and staying in touch!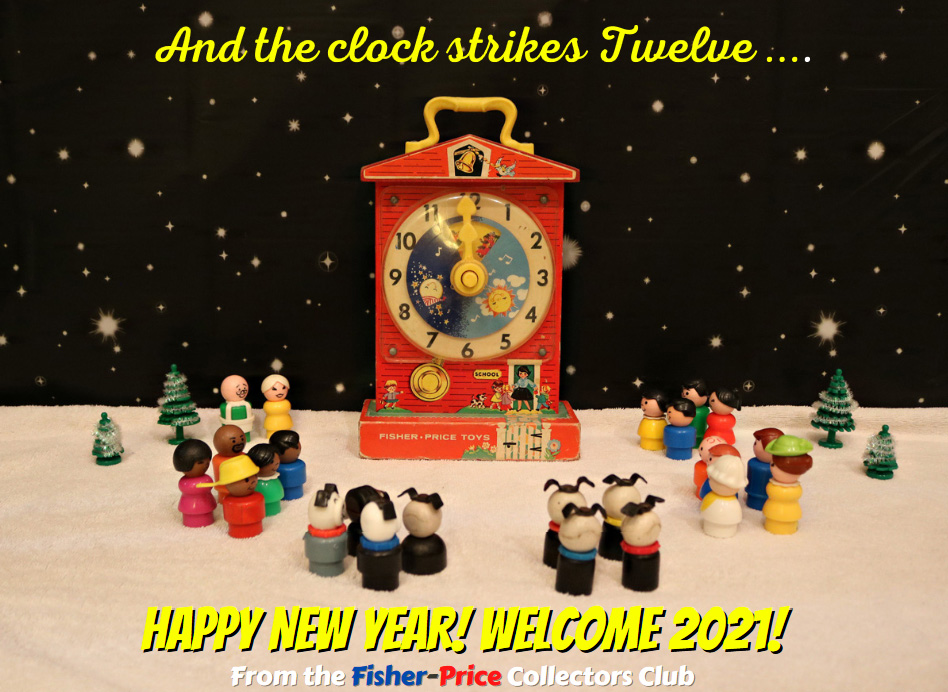 JANUARY 1st, 2021 UPDATE: Happy New Year from the Fisher-Price Collectors Club! The Little People celebrate as the Teaching Clock strikes midnight! We can only hope for a better year ahead!

NOVEMBER 2020 UPDATE: Due to our cancelled 2020 convention and the ongoing covid situation, the club will be "on pause" for now while we wait it out. All current members had their membership extended for another full year (covering the 2020-2021 year). The Gabby Goose newsletter is also on pause, so don't worry if you haven't received one in awhile! All current club members were mailed an envelope in October explaining the membership extension. But we aren't just twiddling our thumbs, as many of our collectors have been very busy with their collections during their stay-at-home time! Please join us in our Facebook Groups to see people's displays, see everyone's new toy finds, and generally just chat about Fisher-Price and stay in touch!

MAY 30, 2020 UPDATE: We are sad to report that the club's July 2020 Convention and Sale has been cancelled, which was expected. Due to Covid restrictions in New York, no large gatherings are permitted indefinitely in the state. The Fisher-Price Collectors Club's annual sale is part of a larger event, the East Aurora Chamber of Commerce's Street and Sidewalk Sale, which has been cancelled. As a result, the club is not getting together in 2020 (no dinner, no sale, no nothing). We look forwards to 2021, hoping the situaiton will have improved by then. Please join us chatting in our Facebook Groups so we can keep collecting, chatting and stay in touch!

MAY 10, 2020 UPDATE: With the uncertain times going on right now, The Fisher-Price Collectors Club's annual show and sale is still awaiting word on what to do this summer. The dates are July 24-25, 2020 in East Aurora NY. The sale is part of the East Aurora Chamber of Commerce's Street and Sidewalk sale, and they are awaiting decisions by the State of NY. Please check back on to this site for updates as they come.

February 17, 2020 UPDATE: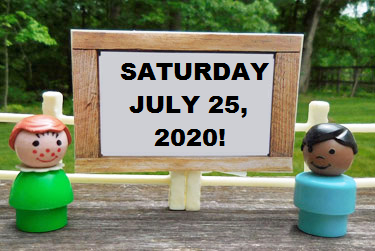 Collectors, mark your calendars! The date is set - the Fisher-Price Collector Club's next annual Toy Show and Sale is Saturday July 25, 2020 in East Aurora NY! The times are 9:00am to 2:30 pm. The location is the Blazing Star Masonic Lodge at 645 Main Street. This is the same location for the sale as the prior few years. More information will be mailed to club members as the time gets closer. For more details, see our updated Toy Sale Page!.

December 22, 2019 UPDATE: Collectors, check your mailboxes! The November 2019 and December 2019 issues of the Gabby Goose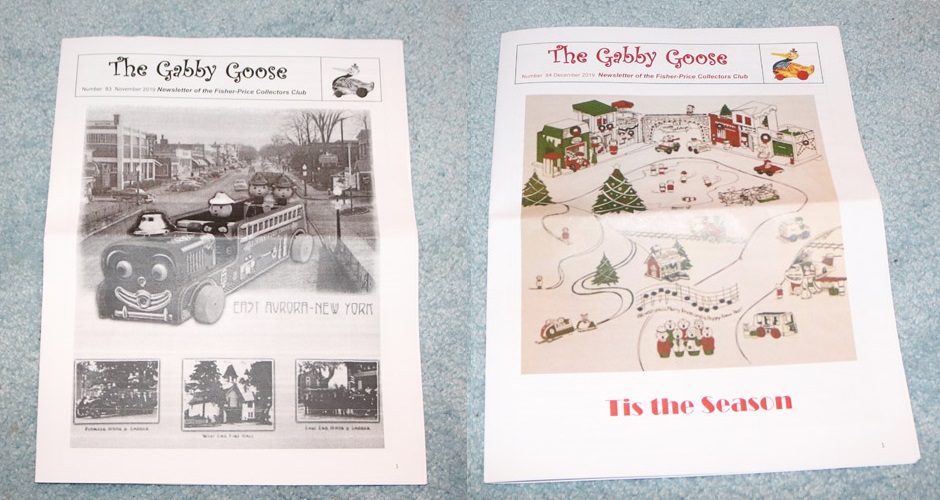 newsletter were mailed out this week! The November issue is all about our July 2019 convention. The December issue is very special, as it showcases just about every ornament Fisher-Price made for Christmas! And in full color as well! It shows the Hallmark ornaments, Department 56 ornaments, and even some made by Fisher-Price for their employees. Many thanks to our wonderful editor and those who helped her put together such a unique and well-researched newsletter! Visit our updated Gabby Goose Newsletter Page for more info about the newsletters.


Click on links below to see all the pages on this site!
| | |
| --- | --- |
| Annual Toy Sale - The Fisher-Price Collectors Club usually holds a sale once a year in East Aurora NY. Click to see information on any upcoming sales, and photos from past sales too! | |
| News and Updates - Click to see news and updates from the Fisher-Price Collectors Club. Will include toy sale and convention information as plans are made. | |
| Gabby Goose Newsletter - Members of the Fisher-Price Collectors Club receive the club's newsletter The Gabby Goose usually 3 times a year (the newsletter is mailed out; it is not available online). This page has information about the current newsletter plus past newsletters as well. | |
| Facebook Groups - There are some active Facebook groups where Fisher-Price fans chat away about their recent toy finds and their collections! The club also has a Facebook page, which we primarily use for updates about the toy sale. | |
| The Fisher-Price Adventure People - The Adventure People were a line of toys made by Fisher-Price from the mid 1970's to the early 1980's. And wow, they can be super collectible, especially in the original boxes or cards! Click the link to see an overview to the Adventure People sets, plus photos of all the figures! | |
| Join the Club - The Fisher-Price Collectors Club is a non-profit organization that has existed for over 20 years. Click the link to read more about what a club membership includes. | |
| Past Conventions - The Fisher-Price Collectors Club has held our annual convention in East Aurora NY since our inception in 1993! Click to see writeups and photos from prior years. | |
| The Wooden Pull Trains - The Fisher-Price Collectors Club has members who love all different lines of toys made by Fisher-Price; we aren't just all Little People collectors! Many of our members love the older wooden pull toys, which were the primary toys made until the mid 1960's. One fun subgroup of the pull toys are the wooden trains, each with it's own style and identity. Click the link to see a whole bunch of them! | |
| Fisher-Price Guide Books - Looking to buy a guide book on classic Fisher-Price toys (pre-1990)? On this page we showcase 3 of the best ones out there, the books written by Brad Cassity, Bruce Fox and John Murray. | |
| Our Mission, Goals and History - An overview of the Fisher-Price Collectors Club, from our beginning in 1993 to current times. Explains our missions and goals as a non-profit organization. | |
| Overview of the Toys We Collect - What do the members of the Fisher-Price Collectors Club collect? The top line of toys (as you may guess) is the classic Little People toys, and second is the older wooden pull toys. But we have members who collect many other lines of toys as well! Musical wind-ups, newer Little People, the mighty Adventure People, plus more! See the link to get an overview of what lines of toys that collectors like! | |
| Fisher-Price Toy Collection Photos - See photos of many toys in the personal collection of one of our long-time members. This page showcases many different lines of collectible Fisher-Price toys. | |
| Fisher-Price Little People - The beloved Fisher-Price Little People made from the mid 1960's to 1989 are the top collectible line of toys by members of the club! This page is a brief overview of the Little People and some links to sites or books that can serve as an identification guide. | |
| East Aurora NY Information - The Fisher-Price Collectors Club holds our annual convention in East Aurora NY. Why East Aurora? It's the home of the Fisher-Price factory, of course! It's where it all started. This page has some general information about East Aurora for those coming to the convention for the first time. | |
| More Links - These are some more links to other sites with information about Fisher-Price toys. Like with all things on the Internet, sometimes the links go dead, but hopefully something still works on this page! | |
| Member Memorials - The club has many senior members, and sadly the march of time is invariably taking its toll. On this page we remember 2 club members who passed away, Deanna and Richard. | |

1998 Gabby Goose, All rights Reserved.
The Fisher-Price Collectors Club is not affiliated with Mattel/Fisher-Price or any of its associates. The toys are trademarks of Mattel/Fisher-Price and its affiliates. Fisher-Price® is a registered trademark of Mattel, Inc. The statements expressed here are the opinions of the site owners.


We love our Fisher-Price Toys!
www.fpclub.org
Welcome to the Fisher-Price Collectors Club Webpage!
Fisher-Price Collectors Club